2017 Anniversary House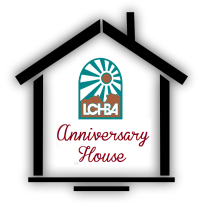 2017 Anniversary House SOLD!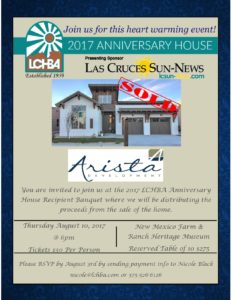 The Las Cruces Home Builders Association and Arista Development plan to give away an estimated $74,000 on August 10th at the Farm & Ranch Museum. If you would like to attend this heart warming event please contact the office at 526.6126.
The Las Cruces Home Builders Association is excited to partner with its membership to bring you the 2017 Anniversary House – a project home to be completed in Metro Verde Subdivision late 2017. The proceeds of this sale of the Anniversary House will benefit the neediest of our community.
In 2014 the Las Cruces Home Builders Association celebrated its 55th anniversary by donating $64,000 to 13 local non-profit organizations and again in 2015 giving away $82,000.
The 2017 Anniversary House project was built by Arista Development and was a collaborative effort between Arista Development and our members.
The Las Cruces Home Builders Association and our members care deeply about the community in which we live and work. We advocate for home-ownership, collaborate with Local, State, and National Leaders on issues that affect housing and affordability.
Applications are no longer being accepted for this Anniversary House project.